We are born into a Gift Economy practiced by those who mother us, enabling us to survive. The economy of exchange, quid pro quo, separates us from each other and makes us adversarial, while gift giving and receiving creates mutuality and trust. This website provides a discussion of the gift economy and its culture as a way to peace and abundance for all. We distinguish between gift and exchange, in order to understand them both and to finally phase out exchange altogether.
---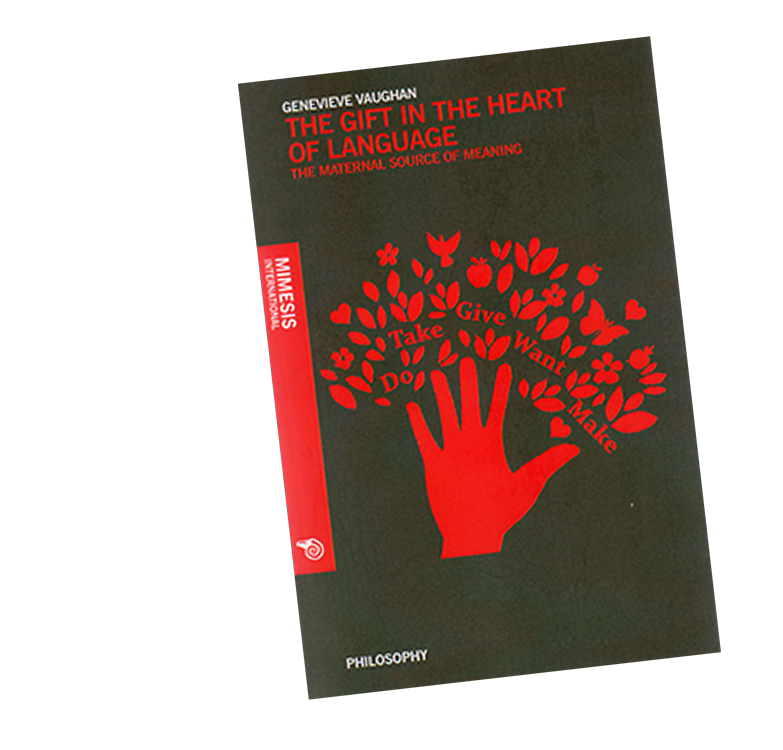 by Genevieve Vaughan
---
The Gift in the Heart of Language: The Maternal Source of Meaning
---

---
The author offers a paradigm-shifting view of the structure of material and verbal communication, based on the mother-child experience and confirmed by recent research in infant psychology. This view justifies a relational epistemology that informs the material gift economy, as well as the structure of language itself. READ MORE
The Gift, Nurturance and Human Emancipation
Patriarchy and the market have merged into a gigantic self propelling mechanism that is overtaking all other socio economic forms while it destroys the Earth and her people in the process. It has many levels of disguise, of concealing its nefarious patterns so we don't even know what it is we are dealing with.
We think it is reality.
Ideas for Our Times
A Gift Economy is the material interaction of a community based on the direct provisioning of needs without the mediation of exchange.
I believe that in every life there is an original economic mode that is based on unilateral giving and receiving and that is prior to the interaction of exchange, which is giving in order to receive an equivalent return.
International Feminists for a Gift Economy
Position Statement for a Peaceful World
From the dawn of time women's gifts have been creating and sustaining community, and we have struggled to make the world a better place. In recent years women have been articulating new forms of protest, refusing war and all forms of violence...
Genevieve Vaughan - Escritora del Libro Para Donar
Coumba Toure - The Concept of Teranga – The Gift Economy in the Sahel